Meet Karyn Sousa, Business Development Executive, Mid-Atlantic
New to her role at Nelnet Campus Commerce, Karyn brings experience working with different ERPs, solutions, and technologies.

Her favorite part of the job is working with clients who are as passionate about higher education as she is.

The career achievement she is most proud of is her current role of Business Development Executive.
Before coming to Nelnet Campus Commerce, what are some of the highlights of your career?
I have a few I'd like to share. First, when I was working at Lasell University I managed the implementation of PowerCampus and Microsoft Dynamics. This implementation went live on-time and on-budget—quite an achievement!
Secondly, at my previous company, I made my goals which awarded me several free trips to tropical locations like Hawaii, Punta Cana, and Puerto Rico. Also, being promoted to Account Executive which then led me to Nelnet Campus Commerce and my new role as Business Development Executive.
And finally, a career experience which brought me joy was when I first graduated college and I worked at an advertising agency. One of my clients was a northeast restaurant specializing in ice cream. I enjoyed helping them create their placemats and signage for their different types of ice cream sundaes – and I got free ice cream!
What do you envision being the most important part of this role?
Being able to work independently, but also strategically and collaboratively. I need to strategically run my business and make the best use of my time, but also collaboratively when working with higher education institutions. It's important for me to work hard and not take rejection as failure.
When it comes to working in the education industry, what do you enjoy most?
The people – clients, colleagues, and their passion for higher education. I like to continually think outside the box to provide an exceptional student experience end to end.
What unique characteristics/skills do you bring to this role?
I have a variety of skills that I bring to this role. After working at a university in IT, I have some technical knowledge that's helpful when conversations get deep. Additionally, I have a wide range of experience working with different ERPs, payment plan solutions, and technologies. I know what it's like to be the client so I have an understanding of what an institution is going through during an implementation, including process changes and disruptions (good or bad).
In this current state of remote work, what communication channels do you find most effective for reaching associates/clients?
ALL – phone, email, texts. Everyone is different about how they like to communicate. It is important to tailor communication channels depending on what is preferred. Some like email, some prefer text, others want to talk. Also, I have started to engage with LinkedIn more to share posts and stories. I might not be having conversations directly with associates or clients, but I'm able to share in their online community. Additionally, I am looking forward to getting back to in-person meetings and conferences.
What career achievement are you most proud of?
I'm most proud of first being an Account Executive, which then led me to become a Business Development Executive.
In your personal and professional life, what motivates you to work hard?
My daughters are my motivation. I try to lead by example so they can see with hard work and determination they can be whatever they want to be. You don't have to necessarily be the smartest or most physical person in the room, you just need to work hard and put in the time.
What was the most important advice you've been given?
Be me and tell the story in my words, not anyone else's.
Outside of work, what are you passionate about or enjoy doing?
I'm passionate about my family and enjoy watching my daughters grow into smart, strong, beautiful women. Also, I love to hike in New Hampshire, but my all-time favorite spot is Colorado. Another activity I enjoy is running. Throughout my career it has always been my outlet to release stress and think. Unfortunately, right now I have an injured foot and can't run. Since 1998 I have run four Boston Marathons and I hope to have another one or two in me!
Visit Our Team to find your Regional Representative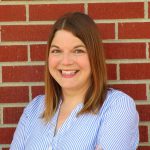 Author: Natalie Schwarz
Natalie Schwarz is a Content Marketing Writer for Nelnet Campus Commerce. She holds a Master of Arts degree in Creative Writing and has over a decade of professional writing experience. When she's not crafting content for blogs, case studies, and social media, you can find her enjoying the outdoors with her husband and their twin boys or relaxing with an embroidery project and a podcast.