Meet Lindsey Stewart, Account Executive
Lindsey brings over 15 years of sales experience to Nelnet Campus Commerce.

She finds the best way to communicate with clients is face-to-face.

Her motivation comes from positive energy, strategic thinking, and hard work.
What are some of the highlights of your career in sales before coming to Nelnet Campus Commerce?
First of all, I am grateful for all of my past careers which have allowed me to interact with people on all levels. I have a heart to serve and feel my passion and fulfillment is found in the higher education setting. My six year journey with Pearson Higher Education, as a sales representative, instilled in me the true definition of grit, perseverance, and success. My love for people and meeting their needs was truly evident in my role and this success was rewarded by earning the Rookie of the Year, Sales Representative of the Year, and Pearson Award Winner of the Year. These top awards and company recognition was truly a dream come true! I learned to always strive to be the best representative and put customers' needs first so success will follow!
What interested you in the role of Account Executive?
The opportunity to be back in higher education was always a personal goal of mine. Therefore, after researching the company, the people, and Nelnet's core values, this seemed like an unbelievable opportunity. Then, I met Caryne Mesquita, Account Executive Manager for Nelnet Campus Commerce, and thankfully the rest is history.
What do you envision being the most important part of the role?
For me, the most important part of my role is being a trustworthy partner who listens. My goal is to represent Nelnet to the very best of my ability and to build partnerships through familiarity and listening. I believe these facets are what will benefit both Nelnet and the client for ultimate long-term success. A great customer-focused strategy starts with listening to your customer's needs and understanding their goals. Many times a customer may not know what will enhance their business so this partnership can open the door to provide many services and ultimately success.
What communication channels do you find most effective for reaching clients?
Since my passion is people, I feel I am at my best when I am able to be with clients face-to-face. I love visiting campuses as much as possible to build rapport and relationships. Also, I find telephone to be a more effective channel than email as an email inbox can be overwhelming and emails can be easily ignored, lost, or deleted. Ultimately, I will always opt for the communication channel which best accommodates the client's needs and preferences.
What unique characteristics/skills do you bring to the table?
I have been involved in outside sales (B2B) for over 15 years and my passion for people has led to my professional success as a top performing sales leader. Holding myself to a very high standard, I am driven by surpassing goals and quickly building rapport and long-standing relationships. My strong work ethic has resulted in a continued desire to give a hundred percent both personally and professionally. I feel my sincere and caring demeanor as well as my listening skills have been rewarding and encourage me not to settle for mediocrity. Being goal-oriented, service-minded, and dedicated to facing challenges in a competitive environment is my formula for success.
What are you most proud of in your career?
I am most proud of the relationships I have made over the past 15+ years in the role as a sales consultant. I find knowing my customers, listening to their needs, and finding solutions is the most fulfilling experience. I feel honored to have been given the opportunity to be in a challenging yet very rewarding career. I know when I am faced with a challenging sale or a difficult customer, I am poised to stay the course and continue to find the best in the situation. Regardless of the outcome, I always learn from the process. With my passion for success and service, I am able to provide effective solutions with measurable results to customers, something that has truly shaped me to who I am today. Also, I am a true team player and cannot imagine my success without a team; it truly comes from a village of committed people striving together and I am forever grateful.
What motivates you to work hard in either your professional or personal life?
Positive energy is at the forefront of everything I do! Success to me also has to involve a challenge along with some fun. Positive energy, strategic thinking, and hard work are what drive me both professionally and personally. I have held my standards high and exceeding those standards each day is where I find the most joy.
What was the most important advice you've been given?
I would say a favorite piece of advice I have been given is that life is too short to spend at a job that does not make you smile. I believe this to be so simple/cliché, yet truthful at the same time. My sales manager in a previous role kept it simple, if you love what you do, success will follow. Therefore, every day I renew my mind and goals and make the best out of this ever changing world.
In your personal life, what do you enjoy doing? What are you passionate about?
I still consider myself a newlywed as a wife to my husband, Brad, and the role as a stepmom to Laci (18) and Stetson (15). Our love for the mountains has us visiting New Mexico and Colorado as much as time allows. We enjoy hiking, river rafting, and skiing. My family is my joy in all my roles as a daughter, wife, stepmom, and aunt. The other love of my life is my dog-child, Shelby, a three year old Golden-doodle! I love taking her on daily walks. She cannot ever have enough "ball time" so we live at the parks. Also, my faith is very important to me; I love my church and worship time. I am always on the go and never stop! I enjoy working out at several gyms and love to run, cycle, and practice hot yoga; my family thinks I am a little bit crazy and a gym rat.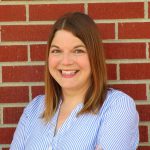 Author: Natalie Schwarz
Natalie Schwarz creates and edits internal and external communications as a Communications Specialist with Nelnet Campus Commerce. She holds a Master of Arts degree in Creative Writing and has over a decade of professional writing experience. When she's not crafting communications, you can find Natalie enjoying the outdoors with her husband and their twin boys or scoping out an estate sale.