Meet Ashley Pettis, Product Manager, at Nelnet Campus Commerce
Ashley was recently promoted to Product Manager after being a Product Owner for Nelnet Campus Commerce.

She enjoys working with all the different higher education clients and being able to help their institutions continue to move forward.
Describe your work experiences with Nelnet prior to this role.
Before becoming a Product Manager at Nelnet, I started out as a Product Owner. I had only been with Nelnet for a short while and with the support and encouragement of my manager, I was able to move to the next level in my career.
What do you enjoy about working in the higher education industry?
I enjoy working with all the different higher education clients and being able to help their institutions continue to push forward.
What is something you are excited about or can't wait to tackle in this new role?
I can't wait to strengthen and build long term client relationships by providing the best solutions by offering the best products.
What does a typical day look like for you as a Product Manager?
A typical day usually has meetings with internal and external stakeholders where action plans are created that will ultimately help our products move forward.  
What are some unique characteristics you bring to this role?
I have brought with me familiarity from the university side where I had experience in the Controller's office and used several Nelnet products. Because of that early exposure, I have been able to understand the needs of our clients and which of our products are able to fulfill their requests.
What is your process when working with clients to determine new product features?
It is our process to investigate the market and see what the pain-points are as well as places that could propel a client forward. Then we take that information and come up with solutions to release the most effective features.
What is the best piece of advice you have been given?
Never be afraid to stand alone. Even when everyone around you has followed the popular opinion, if it means you stand alone for what you believe in then stand alone with confidence.
Outside of work, what do you enjoy?
I enjoy creating custom art pieces, including paintings, natural object sculptures, and drawings. I have dabbled in both realistic and abstract art.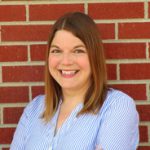 Author: Natalie Schwarz
Natalie Schwarz is a Content Marketing Writer for Nelnet Campus Commerce. She holds a Master of Arts degree in Creative Writing and has over a decade of professional writing experience. When she's not crafting content for blogs, case studies, and social media, you can find her enjoying the outdoors with her husband and their twin boys or relaxing with an embroidery project and a podcast.