Payment Security You Can Trust
We're committed to helping your institution meet the highest levels of payment security compliance available. With Nelnet, every online and in person payment is protected. And student data is secure.
Taking Payment Security to the Next Level
Nelnet Business Services President, DeeAnn Wenger, and IT Director, Mike Walters, discuss the daily measures we take to ensure your institution's payments and data are secure.
Our Commitment to Your Security
PCI Compliance
The Payment Card Industry Data Security Standard (PCI DSS) is a global payment security standard. At Nelnet, we view it as a year-round requirement. Annually, we undergo a PCI Level 1 on-site assessment to ensure we meet the highest standard and institute controls to protect against security breaches.
P2PE Partnership
Point-to-Point Encryption (P2PE) ensures that in-person and over-the-phone card payments are as secure as possible. In partnership with Bluefin, we offer a P2PE solution that reduces PCI scope and protects your campus and cardholders from a data breach.
FERPA Compliance
The Family Educational Rights and Privacy Act (FERPA) is a federal law that protects the privacy of student education records. Nelnet's Authorized Payer Module is fully compliant with FERPA, allowing students to securely grant access to their private account by assigning an authorized payer a unique ID and password.
Nacha Verified
In compliance with Nacha requirements, Nelnet implements security best practices for protecting bank account information. Our policies and procedures manage and mitigate fraud and risk. Annually, we complete the TPS ACH Rules Compliance Audit.
25+ years in payments
For over 25 years, we've offered payment solutions designed to keep your data secure while serving the unique mission and needs of higher education.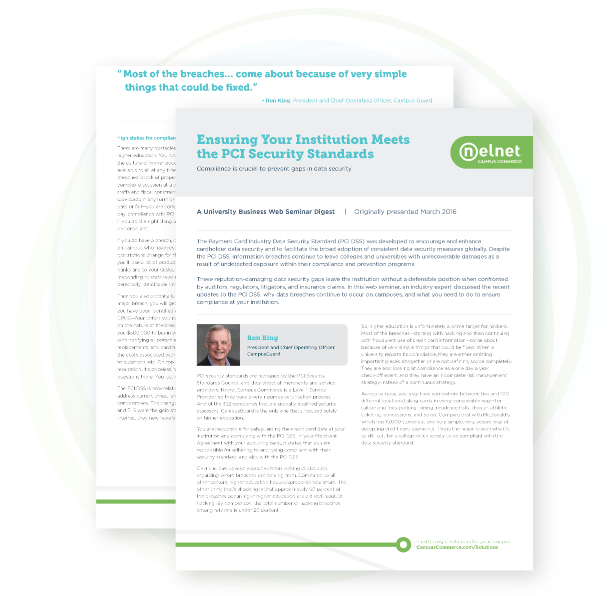 White Paper:

Ensuring Your Institution Meets PCI Security Standards

"Most of the breaches – starting with hacking and then continuing with fraudulent use of credit card information – come about because of very simple things that could be fixed."

Ron King, President and Chief Operating Officer, CampusGuard
Payment security is undergoing a transition as the Payment Card Industry Security Standards Council (PCI SSC) has rolled out updated standards to enable organizations to better protect payment information against ever-evolving threats.
Read More

about See what's new with PCI v4.0
Find top-notch payment security that supports the needs of your institution.