Cybersecurity Awareness Toolkit
CampusGuard, a partner of Nelnet Campus Commerce, focuses on cybersecurity and compliance needs of campus-based organization in higher education.

This cybersecurity awareness toolkit features statistics and best practices for higher education institutions to consider when it comes to information security.
CampusGuard, a partner of Nelnet Campus Commerce, focuses on cybersecurity and compliance needs of campus-based organization in higher education. Offering a broad array of offensive security services, throughout their 12 years in business, they understand what it takes to keep higher education information secure.
Our partners at CampusGuard have created a Cybersecurity Awareness Toolkit to assist higher education institutions in becoming more knowledgeable when it comes to information security at their institutions. This toolkit covers all topics from higher ed statistics, best practices, cyberattack methods, and information on preventing phishing.
Cybersecurity and Higher Education Stats
Higher education institutions are high-value targets for cyberattacks. Many host a significant amount of sensitive data, including student information, protected health information, financial information, and research data, making them attractive targets. Additionally, with many faculty, staff, and students dispersed and operating online, higher education institutions are even more vulnerable to cyberattacks. Shocking stats: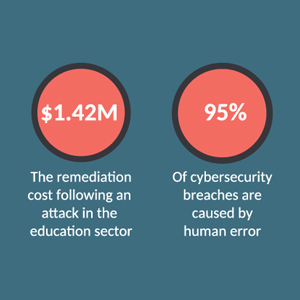 95 percent

of cybersecurity breaches are caused by human error

$1.42 million

is the remediation cost following an attack in the education sector
Cybersecurity Best Practices Checklist
Adhering to best practices can significantly reduce the risk of your institution becoming a victim of a security breach. Updating operating systems and installing anti-virus software is a great start, as in requiring strong passwords of at least eight characters with a combination of upper and lower case letters, numbers, and special characters. Other practices to consider:
Secure devices when not in use and use encryption
Only connect to trusted, private networks; not public wi-fi
Many institutions lack strong cybersecurity practices, making them vulnerable to data breaches. To combat cyberattacks, institutions need to include cybersecurity awareness, prevention, and data security into their training and culture. Hackers use a variety of methods to gain access to an organization's network. These methods can include:
Malware, which is a malicious code or software inserted into a system to compromises it
DDoS Attack, which is an attack that occurs when an attacker floods a server with internet traffic to prevent users from accessing online services and sites
Phishing attacks are the most common cyber threat to higher education institutions and other organizations. These specially crafted, seemingly legitimate-looking emails are used to trick employees into providing confidential data, including passwords and credit card numbers. Consequences of a phishing attack can include malware infections, compromised accounts, and loss of data and money. When it comes to phishing emails:
30 percent of phishing emails are opened
It costs $4.65 million for an average organization to recover
View the Cybersecurity Awareness Toolkit in its entirety, so your institution can improve cybersecurity on your campus.
Download the cybersecurity awareness toolkit document Now
Want to learn more about cybersecurity for your institution, read our latest blogs:
Scoping for Your Annual Pen Test with Hybrid Work Environments
Author: CampusGuard
CampusGuard focuses on the cybersecurity and compliance needs of campus-based organizations including higher education, healthcare, and state and local government. Our success in serving our customers is a direct correlation to the experience, education, and commitment of our certified professionals. We understand what it takes to provide outstanding customer care, and we continually exceed our customers' expectations with a team of responsive professionals that understand the requirements for protecting confidential and sensitive information at fair and reasonable prices. Our extensive reference list is a testament to our significant capabilities and outstanding customer service.