Meet Gail Sorensen, Director of Higher Ed Implementation
Gail brings over 20 years of experience in various technology roles, including implementation.

She's a teacher at heart and is passionate about the mission of higher ed.

One of her key motivations is her love of lifelong learning.
What has been your experience in the higher education industry before coming to Nelnet Campus Commerce?
My higher ed career started with seven years as the Assistant Director of HR & HRIS at Central Oregon Community College (COCC) in Bend, Oregon. Then, I returned for a year as a contracted Project Manager for yet another software implementation there. After leaving the college, I went back to technology in a Project Manager consulting role at Harris Computer. From there, I joined Sierra-Cedar as an Organizational Change Management (OCM) consultant for three years working with higher ed clients on software implementation projects.
What do you enjoy about working in the higher education industry?
I have always been drawn to higher ed because I am a teacher at heart and am passionate about the mission. I've taught academically, as well as, over 15 years of technical training and have a great respect for those that support lifelong learning. I loved my time at COCC and really only left because I missed being in technology and wanted to leave HR to return to consulting. Fortunately, I have been able to combine consulting within higher ed in the end.
What interested you in the role of Implementation Director for Higher Ed?
I enjoy being in a leadership role and have 20+ years holding various technology roles including implementation, consulting, sales, product ownership, tech writing, and training. So, given my interests and background, it just made perfect sense to seek out a Director of Implementation role. I was ecstatic when I came across the Nelnet opening that fit my skill set and passion so perfectly!
How does your experience in higher education assist your team in continuing to provide a best-in-class experience for our clients?
While my higher ed experience certainly benefits the team in being able to support them in understanding our clients, I feel my overall related education and experience in technology consulting, project management, HR, and leadership is the real bonus. I know the challenges Project Managers face and the energy it takes to build positive client relationships while keeping up with changing product functionality to deliver projects on-time. The ability to meet client expectations to deliver a best-in-class customer journey takes a strong commitment every day. I am so happy to have stepped into leading a very high performing team that rises to these challenges every day.
How has your certification in Organizational Change Management (OCM) Leadership been an asset for the new institutions coming on board to Nelnet?
At this point, the institutions are not yet benefiting from my OCM background. Fortunately, the team is interested in learning about OCM so I'll work to get them educated so they have another toolkit for their Project Manager roles. Just having the basics and language to communicate to their client teams about the importance of OCM work before and during the implementation will be helpful. The Project Managers work on shorter term projects with limited bandwidth to engage directly in OCM activities on projects, but I believe giving them the confidence to talk with clients about OCM action plans will contribute to smoother implementations and overall project success.
When it comes to serving our partnerships/future clients, what have you enjoyed the most so far?
I'm still in such a big learning mode right now, but already fully engaged in some projects that will benefit both our clients and the implementation team, as well as, those we partner with internally. I am loving how open everyone is to working together to be innovative and solve problems. I thrive on working to improve the client experience while also working to support those that deliver that experience to enjoy their jobs and to have resources and capacity to develop and learn. The Nelnet culture is without a doubt helping the implementation team thrive.
What career achievement are you most proud of?
While I've had several different careers and different achievements in each, I would have to say that directing the HR Staff at COCC on advancing HR services over a five-year period of 110% organizational growth without adding staff, but by implementing technology and business process changes felt great. There is no doubt that we were successful because of the strong HR team I was lucky to work with over seven years of constant change for the entire college.
In your personal and professional life, what motivates you to work hard?
Well, for better or worse in the life-balance category, professionally, I've always had a strong work ethic and willingness to put in the hours to complete projects (I'm a sucker for a challenge) and to live up to my own professional standard to meet client expectations as a leader, project manager, and consultant. I love to solve problems creatively and to be strategic in my roles. I'm a life-long learner so that keeps me motivated.
What was the most important advice you've been given?
I'd say that it started with my parents that were always encouraging me to never settle and go for what I wanted in life both personally and professionally. I've had a few great mentors in my lifetime and don't recall specific advice, but I certainly learned a lot from their example and guidance. They were great role models for collaboration, communication, critical thinking, and ultimately, just how to be a good, humble human being.
Outside of work, what are you passionate about or enjoy doing?
I love to travel and play outside in a wide variety of activities (hiking, biking, trail running, kayaking, XC skiing, snowshoeing). Since I was a competitive tennis player for 20 years, and then racquet ball, my friends are enticing me now into the Picket Ball craze.  I'm sure I'll become addicted as quickly as everyone else has. I will add that I need to be in the mountains for my soul, so the Cascade Mountains I enjoy in Bend, Oregon are a great personal motivator to keep moving. Plus, after more than 30 years, my two brothers and their families will all be in Oregon to play with.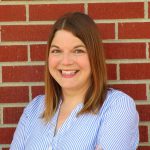 Author: Natalie Schwarz
Natalie Schwarz is a Content Marketing Writer for Nelnet Campus Commerce. She holds a Master of Arts degree in Creative Writing and has over a decade of professional writing experience. When she's not crafting content for blogs, case studies, and social media, you can find her enjoying the outdoors with her husband and their twin boys or relaxing with an embroidery project and a podcast.