Meet Tiana Pluck, Marketing Campaign Manager
New to her role at Nelnet Campus Commerce, Tiana brings with her extensive experience in digital marketing and brand management

For her, the best way to communicate is through personal conversations and connections

She is inspired by the people she gets to work with and serve in her role
What has been your professional experience before coming to Nelnet Campus Commerce?
I've always worked in marketing. Prior to Nelnet Campus Commerce, I worked at a creative agency in Baltimore, Maryland that specializes in digital marketing and brand management.
What interested you in the role of marketing campaign manager?
My chief responsibility at my prior job involved the coordination of marketing emails and social media for our client's conferences. Having known about Nelnet for years, I was more than elated to learn about the marketing campaign manager position – It's allowed me to step into a role that is more strategy-focused while also sticking to my comfort area: conference marketing.
What aspects of your marketing experience are an asset to your team in continuing to provide a best-in-class experience for our clients?
Anyone who knows me knows that I have an immense and genuine love for people. I find that marketing works best when you remember that you're not only talking to a company or an organization – at the end of the day, you're talking to a person. I think that prioritizing those human interactions is not only paramount to how I live my life, but also (and most importantly) it's how Nelnet has and continues to provide its best-in-class service.
What communication channels do you find most effective for reaching our clients?
Though I'm still fairly new to the team, I've always been a big fan of personal conversation and connection when at all possible. And, for the short time I've been here, I've seen that is Nelnet's main priority with customer interactions.
In your own words, what's the goal of marketing?
Collaboration. Marketing doesn't work without a team willing to share ideas and dream together. It also doesn't work when you don't have a relationship with your audience(s). Collaboration is the magic that makes it all make sense and work effectively.  
What makes you passionate about this work?
I've always been inspired by the people that I work alongside and the people that I get to serve in my role. I can't express how welcome I feel by this team and the division as a whole. Ultimately, that's a main driver of my passion and commitment to the incredible work that Nelnet does day in and day out.
What was the most important advice you've been given?
"You miss 100% of the shots you don't take." – Wayne Gretzky…and Michael Scott…and now Tiana Pluck! But, in all seriousness, I think that the best advice that I've received has been to give myself permission to slow down and ask for help. I tend to feel like I always have to have the answers or always have to be doing something. Finding time to rest, physically and mentally, is the biggest game-changer.
What is one thing that can instantly make your day better?
There are a few things: The sound of the rain hitting my window during the work day, my kitten, or a sweet text from my mom or fiancé.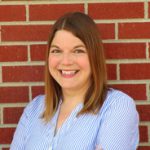 Author: Natalie Schwarz
Natalie Schwarz is a Content Marketing Writer for Nelnet Campus Commerce. She holds a Master of Arts degree in Creative Writing and has over a decade of professional writing experience. When she's not crafting content for blogs, case studies, and social media, you can find her enjoying the outdoors with her husband and their twin boys or relaxing with an embroidery project and a podcast.