Data Analysis is Impactful During Trying Times
The pandemic has impacted and disrupted higher education

Making data driven decisions in the future will positively affect higher ed to better predict retention and cash flow

Data analysis can help institutions meet key performance indicators
Institutions that use data can leverage performance indicators to help students succeed and graduate. Working smarter, not harder, and using predictive analytic tools will eventually pay for themselves because institutions benefit from the data they discover for years.
David Glezerman, managing partner, The DRG group and retired bursar from Temple University, said keeping costs down while maximizing revenue opportunities has become more crucial than ever.
"Institutions can no longer spend without having the data to quantify and justify," Glezerman said. "Creativity and 'out of the box' thinking will be required to facilitate the changes needed to develop the new models of higher education learning at an affordable cost in an 'available' environment (online or remote learning)."
Climate in higher ed today
The pandemic has significantly impacted and disrupted higher ed. Communicating with students, parents, employees, and alumni has completely shifted in a very timely matter. Revenue streams institutions had been accustomed to have dissipated – creating hardships.
Jackie Strohbehn, president of Nelnet Campus Commerce said that higher ed knew some of the changes would be coming, the pandemic just accelerated the deliver of courses, processed and technology needs.
"At the forefront of our partners' minds is – looking at ways to consolidate integration, offering more options to students, and simply looking at ways on how to best operate for both students and the institution."
Daryl Robinson, Nelnet Campus Commerce director of product strategy, said higher education is at a crossroads – trying to remain relevant when people, for the first time in our history, are questioning the value of their education.
"Institutions are looking for creative ways to maintain cash flow," Robinson said. "Recruitment and retention have never been more important to the survival of educational institutions."
Andrew Darling, Applied Performance Analytics chief technology officer and professor at Marymount University, said that with the pandemic, there has been a dramatic shift in institutional revenue streams – from housing, meal plans, athletic programs, and so on.
Glezerman echoed Darling's view on revenue loss and stressed the importance of making data driven decisions now and in the future.
"There have been revenue losses that have come up like the amounts that had to be refunded for housing, meal plans," Glezerman said. "Institutions use to depend on these revenue streams. It went from a nice flow almost to a complete stop."
Being able to plan and use projections is more important now more than ever because of the uncertainty 2020 has brought. Many institutions are trying to pivot as quickly as they can using assumptions with no data to back them up to stay afloat right now. Nelnet Campus Commerce is excited about the partnership with Applied Performance Analytics as it enables us to help our clients leverage the data to predict cash flow and institutional receivables.
Individuals in higher ed are in survival mode. We have to keep students in classes, whether they are physical or virtual. This is where the cash flow is going to come from, Glezerman said.
"We have to build those synergies and understand those interdependencies to know where we are going to have our success stories and how we can create those," Glezerman said. "Being creative and thinking outside of the box becomes more critical to finding these new statistically proven solutions to maintain affordability at a time when our institutions are really as crunched as they have ever been in my 40 years."
Robinson said schools are needing to chase down every dollar by predicting who will pay and who will struggle to pay – and then assisting those who need it the most.
"It's do or die at a lot of institutions and knowing where you're financially successful and more importantly where you will be successful is vital to keeping the doors open," Robinson said. "This is what analytics is all about."
For centuries we have gone through many different ages – but now we are in the too much information age, Darling said.
"We have mountains of data that needs to be deciphered to be effective," Darling said. "We need to analysis the volume of data and put it into something is meaningful information, which will be impactful."
Predictive analysis can help institutions focus on students that need help – ultimately resulting in helping institutions with retention, revenues, and reserves.
There are precautions that need to be taken when applying analytics in order to reduce unintentional bias or barriers. The data should provide value and insights to all parties involved in the sample. Steering clear of biases ensures the integrity and reliability of the statistical analysis is appropriate and true.
Strohbehn said, "It is about inclusion. When you look at data and you are making decisions around data – you answer the question – 'how do we include more people or how many more students and families can benefit from these decisions?'"
Analytic engines are only as good as the data you feed them, Robinson said. If there is unintended bias in the data, there will be unintended bias in the results of the analytics. It is important to look at the data and indicate where there may be biases.
"If you look at Georgia State University, there were a real success story," Robinson said. "They have successfully used analytics in an ethical way to engage with students. It has positioned them in a way to graduate more minority students than every historical black college and university. They have increased graduation rates for black students by almost 60% and graduation for first-generation students by almost 30% by using analytic solutions."
Higher ed today is plagued with challenges from being under staffed and overwhelmed and it is becoming difficult for institutions to provide the best opportunities for students during these trying times. Knowing this, taking on data analysis can seem like it is just adding another thing to your plate. The opposite is true – data analysis takes concerns and the unknown off of your already, full plate.
Glezerman said the next step is identifying what are the most meaningful and advantageous needs/wants that should be dealt with.
"Analytics have been successfully used in other industries and sectors of higher education; need to use the available tools and create new ones to achieve necessary efficiencies and cost savings," Glezerman said.
Strohbehn said we all recognize where there are opportunities to implements analytics.
"As you look at implementing different analytics, or working with partners to establish those pieces – it's important to understand those impact drivers and what the data is telling me and then what I can do with it," Strohbehn said. "A big part of analytics is what action do you take to influence and promote positive change."
We need to identify what fields of data the institution really needs and what their key performance metrics are, Darling said.
"You can have all the data you want and make a decision," Darling said. "But if you stop there and don't take action on carrying out the decision, then all of those analytics are ineffective."
Want to know more? Watch the panel discussion on-demand here.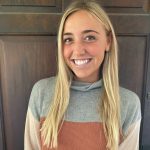 Author: McKenzie Beach
McKenzie Beach is an Account Manger for Nelnet Campus Commerce. Graduating from Doane University with a degree in Strategic Communications and a minor in Leadership, she first joined Nelnet Campus Commerce as a content coordinator intern, she researched and communicated what is needed for our clients and the public. McKenzie is now an Account Manager, working directly with clients to further enhance their payments experience. When McKenzie is not working, she enjoys baking and spending time with her family.