How Western Union Supports International Students
With over 2,500 compliance-focused personnel, you can tell that Western Union takes security seriously.

Western Union has used their position to support displaced youth across the world.
Nelnet Campus Commerce partners with Western Union Business Solutions (WUBS) to give higher ed institutions an option to process international student payments. In a recent partner insights webinar, Western Union presenters, Andy Benkis and Belinda McCulloch discussed international payment trends in education.
With over 2,500 compliance-focused personnel, you can tell that Western Union takes security seriously. Over the past five years, they've invested over $1 billion in compliance practices and programs. Fraud monitoring, dynamic AML monitoring and investigation, payment screening against a comprehensive set of global sanction lists – all to protect payments.
Interacting with partners
Eight of the 10 top-ranked institutions in the world work with Western Union, and they've moved $14 billion on behalf of education institutions. In some cases, partner institutions leaned on Western Union for support in early 2020. They stepped up to the plate and helped their education partners activate business continuity plans, implement new processes for payments, and better prepare for the future. As quickly as changes happened this year, a number of institutions truly had to move to electronic-only payments overnight. Western Union helped make sure that those institutions were able to stay competitive and support international students.
The landscape of education
In March 2020, 80% of students had changed their education plans in some way. Institutions needed to adapt quickly – so they did. 99% of education institutions are either holding classes online or have implemented a hybrid model. They're taking steps to meet students' need for digital payment options (a need that continues to grow).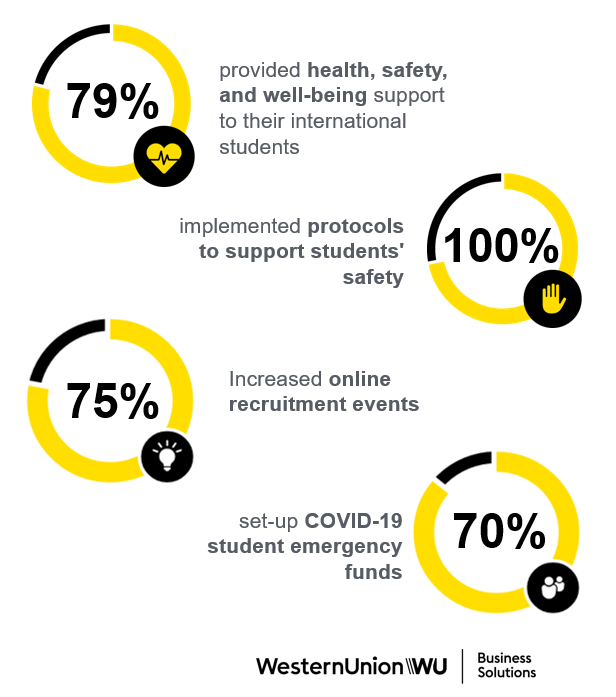 International students in the U.S.
Fall 2020 saw a 16% decrease in total of international students studying in the U.S. and online at U.S. institutions due to the pandemic. Outside of the U.S., that number is 43%. Many students deferred enrollment in higher education for the future, leading to a 4% decrease in international financial contributions from 2019-20.
International students in the U.S. saw a significant decrease in students from Japan (-16%), China (-21%), and Australia (-27%), as well as a number of regions in Asia. Interestingly enough, international enrollment/payments actually increased from South Korea (+5%), Canada (+9%), and Bangladesh (+11%). Overall, though, one trend is pretty common across the board: Students are trying to stay closer to home.
Where will students come from in the future (and how to address them)?
By 2027, the top 10 populations of 18-22 year olds are projected to come primarily from 10 countries:
China
India
Nigeria
Indonesia
S.A.
Pakistan
Bangladesh
Brazil
Ethiopia
Mexico
COVID-19 highlighted an over-reliance on students from China and India. And though those countries will continue to be important for education institutions in the U.S., structures should be in place to address the needs of changing demographics.
One way institutions can prepare, is by being able to accept a variety of international payment methods such as online and offline bank transfers, credit/debit cards, and eWallets.
Integrating with Nelnet Campus Commerce
For international students, the process of making a payment is simple – they log in through Nelnet Campus Commerce, get redirected to GlobalPay for Students (Western Union's payment platform), and follow the instructions to make their payment. Plus, your institution will maintain all records of international payments stored in one cloud-based system (regardless of the currency or method used).
An area Western Union has especially grown in is their ability to offer a variety of refund capabilities. Using a secure refund portal, institutions can issue full and partial refunds back to students. And the original payment doesn't even need to have been processed on Western Union's system.
Western Union is an impressive option for higher education institutions that need a way to address foreign payments. They've taken a number of steps to ensure the security of those transactions and maintain compliance. With a growing global payment network that includes 130+ currencies and 200+ countries and territories, it's a safe bet that they'll be able to address all major international student groups at your institutions.
Plus, outside of their international payment capabilities, Western Union has used their position to support displaced youth across the world. The Western Union Foundation established the WU Scholars COVID-19 Fund, which has given $124 million in funding to students from over 174 countries to help international students pursue their education in the U.S.
At the end of the day, higher education is all about the student experience. And allowing them to make payments the way they want to is a huge step in the right direction.
Watch the webinar on-demand to learn more about international payment trends in education.
Author: Brandee Williams
Brandee Williams is a Product Manager for Student Accounts. Her responsibilities include defining and executing the product vision and strategy for student accounts related products, including Billing, Payments, and Payment Plans. She works closely with Nelnet clients to ensure business requirements for new features and functionality will meet their needs. Having been with Nelnet since 2003, she started as an Assistant Account Manager helping students and families via our customer service line and grew to a Higher Ed Account Manager and then to the Team Lead of the Account Management Team. Before joining Nelnet, Brandee worked for Cabela's World's Foremost Bank as a Customer Service/Dispute Representative and spent nearly 10 years in the Guaranteed Student Loan Industry.