Simplifying the Refunds Process at Maricopa County Community College District
Maricopa County Community College District includes 10 colleges across the Phoenix metro, serving over 200,000 students each year.

Challenge: Maricopa was faced with the challenge of using multiple third-party vendors to process their refunds. This included processing multiple inbound and outbound files from each vendor and providing unsatisfactory refund methods for their students.

Result: Nelnet Campus Commerce Refunds consolidated and replaced all vendors and was implemented in only a three-month timeframe. Refunds has reduced the costs of maintaining system customizations and streamlined daily system and batch processes for MCCCD.

About Maricopa County Community College District
Maricopa County Community College District (MCCCD), popularly known as Maricopa Community Colleges, has grown into one of the nation's largest and most innovative community college systems, serving the Phoenix Metropolitan Area and beyond. With 10 regionally accredited colleges and 31 satellite locations across Maricopa County, they educate over 200,000 students each year.
Challenges with the Refunds Process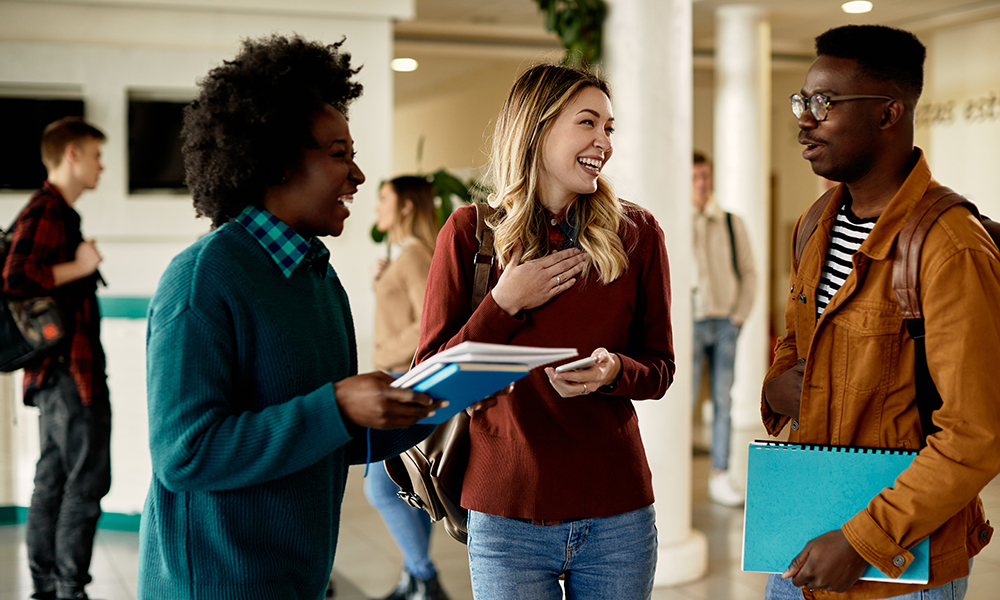 With such a large student population, MCCCD was met with a few challenges when it came to processing refunds. Initially, they were utilizing multiple third-party vendors to process refunds. This required processing multiple inbound files from the refund vendors, then processing multiple outbound files which were eventually sent to the vendors. Additionally, when it came to the student's choice of refund method, one outside vendor encouraged the students to select the prepaid credit card option saying students would receive funds sooner compared to receiving their refund by ACH or check – and this was not the case.
MCCCD would run a delivered batch refund process in their ERP system and send batch refund files to the various outside parties for the different refund methods. One third-party vendor issued refunds via ACH; however, MCCCD had to push the funds to the bank rather than the bank pulling in the funds. Another vendor used prepaid credit cards with untimely refund results, and another printed and mailed checks to the students.
The process with multiple third-party vendors did not meet the needs of our institution as there were numerous custom batch processes that needed to be developed, ran, and maintained, leading to multiple failure points,"– Florence Castro, Business Systems Analyst, Maricopa County Community College District
With a disparate user interface that was not customer friendly, staff and students had difficulty tracking the status of a refund. Moreover, students had to wait longer for their refund if they selected ACH or check, as these vendors did not provide a portal or customer support center for students to contact them directly if there were any questions or issues with their refund.
MCCCD needed a better way to process refunds. What they wanted in a new solution was clear:
Quick and timely refunds for students
Simple interface requiring minimal maintenance
Easy to use tracking and reporting capabilities
Access to customer service for any refund inquires
No prepaid card options
Finding a Solution with Nelnet Refunds
They were able to find a solution that met their needs with Nelnet Refunds.
What we have found most appealing about this product is it has a simple design and is intuitive for college staff and students.
When it came to the implementation, Nelnet had a tight timeline of three months, as one of MCCCD's third-party vendor contracts was expiring. Many teams were involved, including MCCCD's District Office Treasury and Banking, District Office Financial Reporting, District Office ITS Business Systems Analysts, District Office ITS Technical and the Campus Bursars Office.
"We thought since we had 10 colleges we would need 10 instances of Nelnet Refunds, but surprisingly, we only needed a single instance to be able to reconcile and generate refund reports by campus," noted Castro.
Seeing Success Across Multiple Colleges
MCCCD has seen many successes after implementing Nelnet Refunds, including:
Increased productivity
Cost savings
Timely distribution of student refunds
It has reduced the cost to maintain the system customizations and the time and effort for campus staff and district staff to troubleshoot issues and monitor the daily system and batch processes.– Florence Castro, Business Systems Analyst, Maricopa
County Community College District
Since 2021, MCCCD has issued over $208 million in refunds to 250,000 students, with the largest refund file of $28 million to over 25,000 students.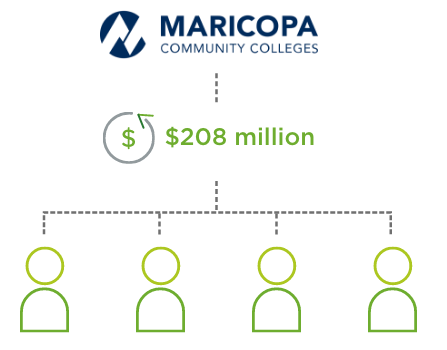 Not only has the staff at MCCCD been impressed with this implementation, so have the students, since they are no longer pushed to select the organization's prepaid card option. Now, students can choose to have the funds loaded to their own reloadable card, and most importantly, students and employees have the ability to track the refund status in real time.