New, Digital Payment Plan Marketing Materials
Your students spoke, and we listened.
New Materials Coming in Spring 2022
Nelnet Campus Commerce consistently works to help you provide your students with the solutions and support they need to make educational dreams possible. And based on student feedback, we're excited to roll out the 2022 Payment Plan Marketing Kit with more digital options. Students were clear that they prefer digital engagement from their schools, so we reformatted our marketing materials with the student experience in mind.
Your institution can choose from two unique campaign options to include: bookmarks, flyers, and posters, which can be branded and printed by your team in whatever quantities you need. The campaigns also feature digital ads for your school's website(s), video content for campus TVs and monitors, social media and email templates, and more!
Many of the marketing materials feature a QR code that will take your students to mycollegepaymentplan.com to search for your institution to learn about all of the payment plan options available. This code helps give students the digital experience they're looking for; timely information that can be easily accessed and shared with others.
Plan For Anything with Payment Plans
Through several focus groups with college students, we discovered students today are planners. They are more aware of their finances compared to previous generations. They plan to save for bigger opportunities and pay for things now versus taking out costly student loans or incurring more debt. Our "Plan For" theme is a nod to the student planners, the ones that want to pay for their education now so when they graduate they can really start living.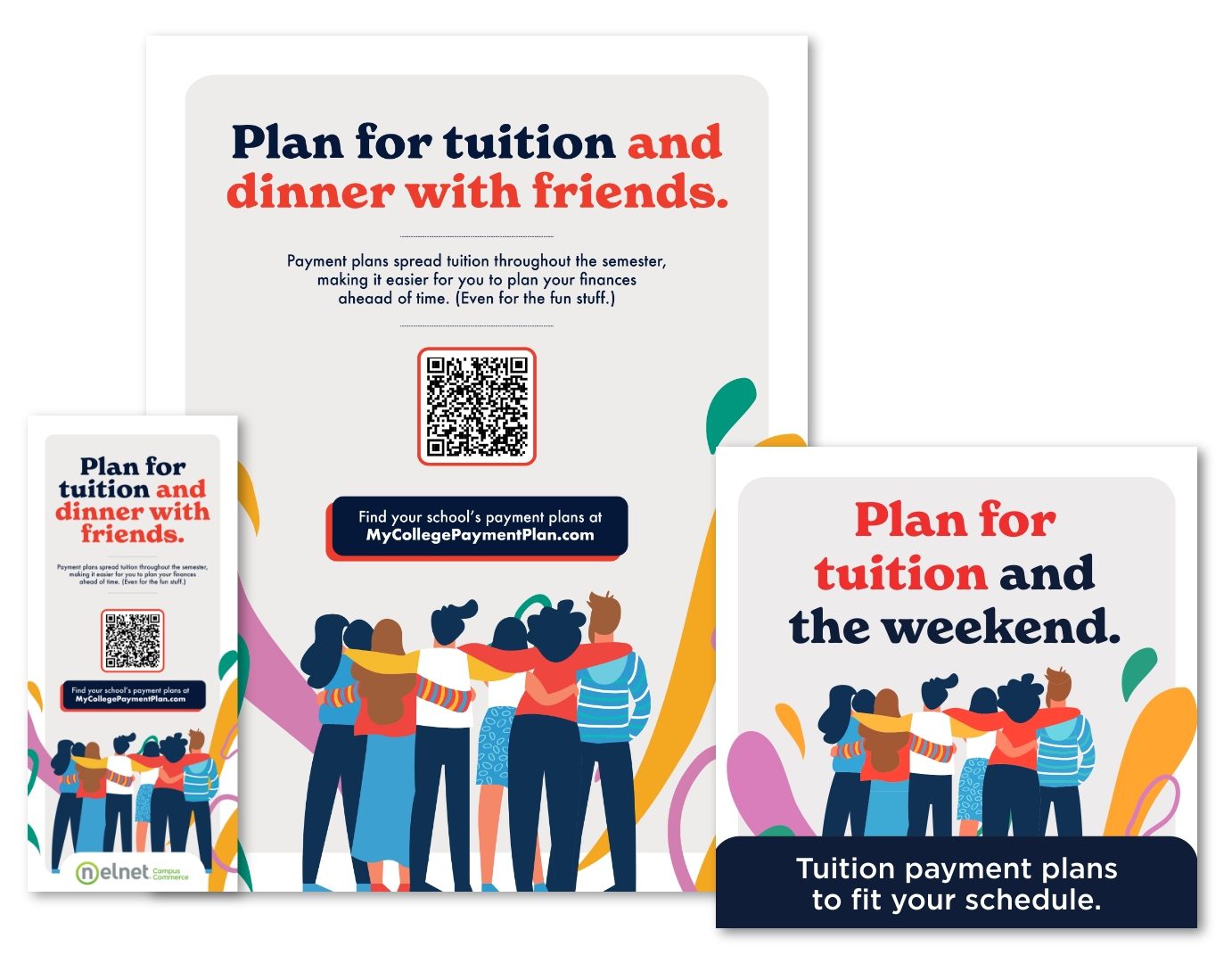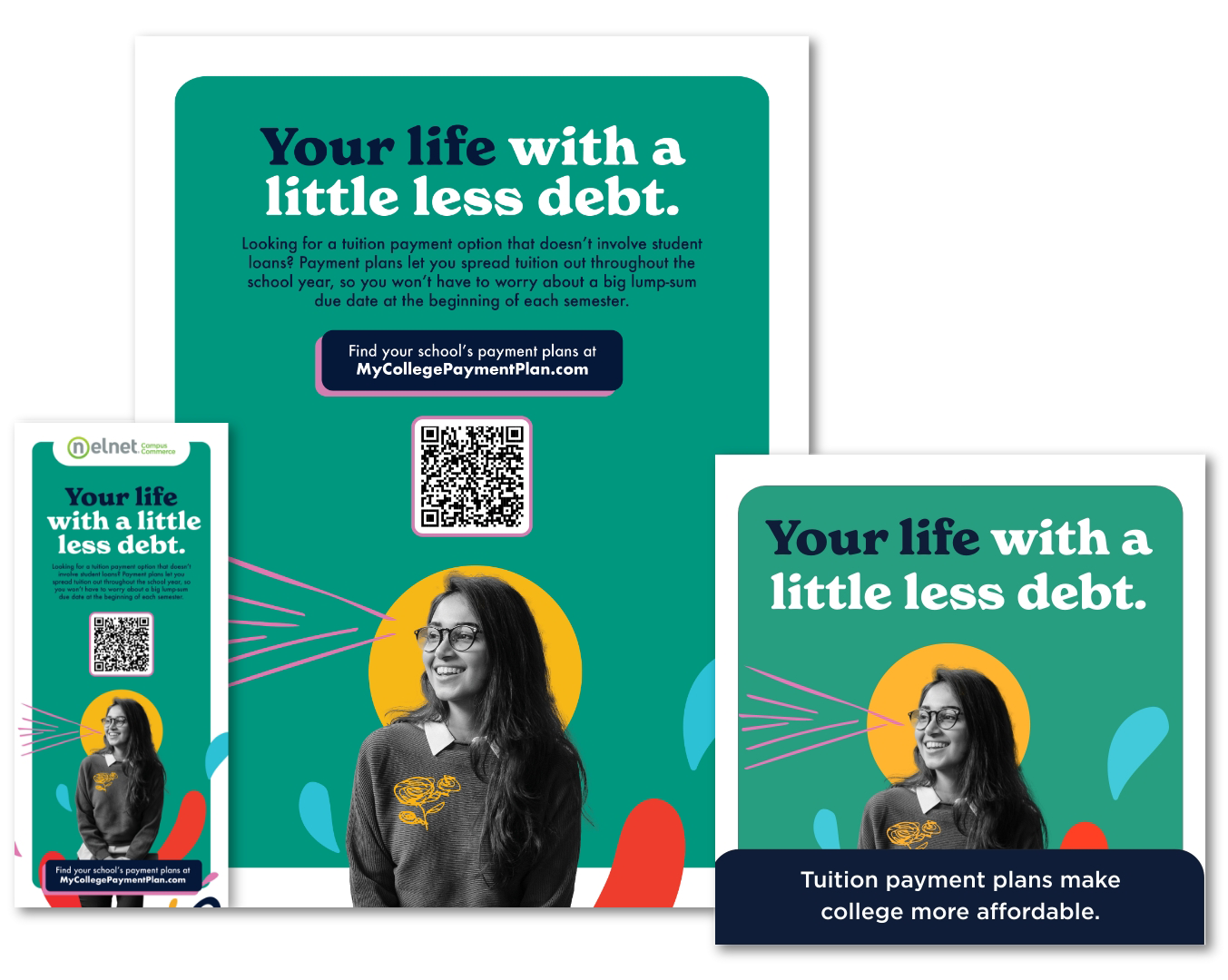 Your Life with Payment Plans
One recurring theme we heard from students in our focus groups was graduating with less debt. Many have watched their parents, or other family members, incur large amount of student debt. These students are determined to graduate with less debt, leading to more opportunities. This theme shows students the power of Payment Plans and by paying for tuition now, they can save on debt later in life.
Benefits of Increasing Payment Plan Participation
More Credit Hours
On average, students on a Payment Plan took an additional 11 credit hours.
Retain Students
Payment Plan programs directly increased student retention by 9%.
Opportunity for Enrollment
On average 1 in 5 students enrolled in a payment plan, so the opportunity for payment plan awareness is out there.
Our partnership with Nelnet Campus Commerce has brought a state-of-the-art solution to our staff and students," Ron said. "I wish we would have chosen Nelnet from the beginning. They're sincere and genuine. We have no second thoughts.

Ron Smith

Executive Director of Information Systems West Valley-Mission Community College District
In 2020, Nelnet data scientists teamed with a number of our partner institutions to empirically measure the impact of payment plans on a number of key data points, for both 2-year and 4-year institutions. The results were positive.
Read More

about Payment Plans and Campus Financial Health
Learn how Indiana University Bursar Brittany Hubbard partnered with Nelnet Campus Commerce to implement standard term and past due payment strategies that eliminated 99.9% of their manual processes.
Watch Webinar

about Automating Payment Plans