Process Automation Does Not Mean Job Elimination
It's a common misconception that the word "automation" is synonymous with "layoffs" – that's not always the case.

By automating manual, repetitive tasks institutions can increase team efficiency and morale.

Automating data collection also has a significant benefit: increased accuracy. (Something Nelnet Campus Commerce can help with.)
How Process Automation Can Increase Efficiency
Since the onset of the pandemic, funding has been an increasing concern for many organizations. When funding resources decrease, it can lead to reducing costs and reprioritizations within your office. Organizations need to prepare themselves to accomplish more with less. By adding an automation solution to some of your offices usual tasks, it will give your staff the opportunity to focus on other things while still meeting the objectives required to keep departments all across the campus running smoothly.
According to McKinsey and Company, "By automating manual and repetitive tasks, successful operations centers are reducing costs by 30-60% while increasing delivery quality." [1]
Determining Opportunities for Automation
Before implementing an automation solution, it's helpful to create a list of tasks your team expects to accomplish. From this exercise you can determine if automation may be the solution you need.
Sort the list into task period and frequency
Separate these tasks into two categories: Completed and Uncompleted
Highlight those tasks which are regularly repeated and would be ideal for automation and then those tasks which require a high degree of human touchpoints
Automation and Workflow Benefits
Automation can be a benefit for not only your team, but teams your department works with. When repeatable tasks are automated, workflow sequencing can be extended by adding next step alerts to all those participating in a project. Keep in mind, participating departments in the work queue cannot begin their work until the first team's data is received. Automation allows you to set up priorities around what matters most for your customers.
The following graphic shows an example from HigherEd Metrics of the steps a team used to meet their accounts receivable goals.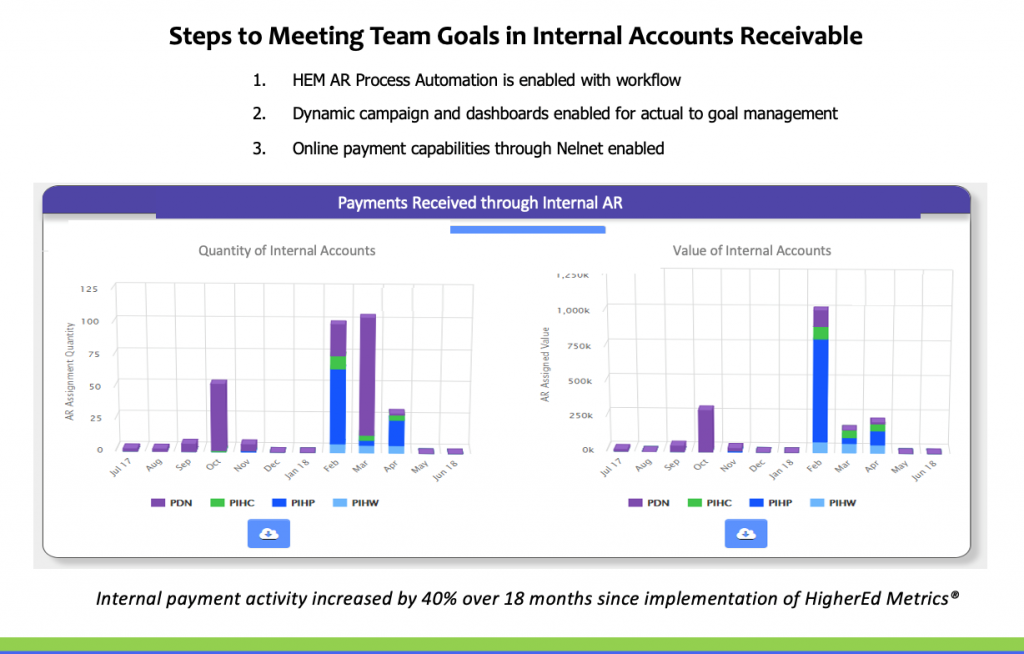 Develop Efficiencies and Reduce Costs through Work Queues
Data, automation, and workflow are the perfect elements for creating work queues with teams working together. A work queue holds work items that can be processed by one of a number of users or by an automated process. Members of a work queue are generally able to see each other's information which helps keep processes moving. When using work queues, teams can take pride in seeing their completed tasks which can increase work efficiency and create a team goal atmosphere.
With work queues, if a member is out of the office, another team member can step in to complete a task. When using an automation product, each team member will usually have individual logins with the role and permission level set accordingly by management. This can allow accounts to be viewable by all team members, but each person can only make agreed-upon operational changes. Using work queues can shift the paradigm from "me" to "team" and can implement clear objectives that are simple to identify, award, and celebrate when goals are met.
Automation to Manage Change
While automation can help teams work more efficiently, it can even create new opportunities within departments. In the accounts receivable example, shown above, it illustrates how identifying students with outstanding payments resulted in a greater number of inbound calls from students. When automation and workflow processes were enabled, payments increased 35-40%. Student questions created a staffing need in a different area which allowed staff members to be utilized in different ways. Those moved into new positions were precisely the resource needed to answer student questions and help them make their payments. Automation helped make this happen.
Balancing resources because of changes in business can be possible. By adding automation to your workflows, you can build positive team energy across departments while increasing efficiency. Automation can be the tool that leads to reorganization of priorities and success for your department.
To see if Nelnet can help you evaluate opportunities for automation at your institution visit campuscommerce.com
Want more information on automation? Visit HigherEd Metrics
[1] https://www.mckinsey.com/business-functions/operations/our-insights/operations-management-reshaped-by-robotic-automation
Author: Applied Performance Analytics
With 75 plus years of software development and complex analytics experience, APA designs machine learning and integrated reporting technology for the Financial Services, Compliance, and Higher Education industries. Workflow automation speeds processes, tracks, aggregates and analyzes data. We specialize in Performance Analytics to break down and pinpoint challenges and solve issues that lead to improved performance and profitability.