Storefront Gives Institutions an Online, Contactless Marketplace
32 new stores were implemented in 2020

There were over 25,000 Storefront transactions, adding up to a grand total of $5.3 million dollars that has been securely processed

Storefront allows institutions, staff, students, and their community to follow COVID-19 safety guidelines because of the online, contactless marketplace
Nelnet Campus Commerce solution, Storefront, allows institutions an online, contactless way to productively sell physical and digitals goods to students, staff, and visitors. The online store experience, designed for higher education, allows students to instantly access their campus marketplace wherever and whenever. Campus groups are able to accept cash, check, and credit cards via mobile devices. Storefront stays up-to-date with federal, state tax regulations because TaxCloud, a sales tax compliance service, is integrated in the system. All regional taxes are known and constantly update automatically.
Erin Guiffrida, senior staff in the financial management office at the University of Buffalo, said Storefront allows her institution to run more efficiently because they have been able to reduce cash/check handling by moving many payments online.
"Storefront has allowed us to reduce the need to collect in-person payments, which helps with allowing employees to work remotely," Guiffrida said. "The ultimate goal we are working towards is becoming a cashless/checkless university."
Reflecting on 2020, a list of Storefront successes were put together – allowing us and our partners to see exactly how we provided payment technology for smarter campuses. Providing a contactless marketplace for departments all across an institution has never been more important to ensure student, staff, and community safety.
John Vanner, Nelnet Campus Commerce implementation project manager, said the top two qualities of Storefront include the sheer flexibility and customization options offered – which can be tailored to meet the unique needs of every client.
"Additionally, the simple, safe, and secure payment processing offered brings peace of mind to both partner institutions and their customers," Vanner said.
Nelnet Campus Commerce implemented 32 new Stores on campuses in 2020. That amount was doubled from last year, when 13 Stores were implemented.
Tricia Giardini, Nelnet Campus Commerce implementation project manager, said she expects even more Stores to be implemented in 2021.
"We've also provided multiple testimonials and references from existing institutions to prospective clients during the sales process," Giardini said. "These positive firsthand reviews have helped tremendously in proving the value and effectiveness of Storefront, as our existing clients have become the biggest advocates and cheerleaders helping Storefront grow and expand across many campuses."
Guiffrida said the Nelnet Campus Commerce associates have been great at making themselves available at any time her institution needs assistance.
"They are very responsive to emails and always willing to hop on a call to help if needed," Guiffrida said. "They are always willing to consider enhancement requests that we come up with."
There were over 25,000 total Storefront transactions, adding up to a grand total of $5.3 million dollars that has been securely processed. Helping your institutions meet the highest level of payment security compliance available, we offer solutions that are PCI compliant and point to point encrypted (P2PE).
Mike Walters, Nelnet Business Services chief information officer, said he treats institutions and students' data as if it were his own.
"We are going to do whatever we can to protect that data and keep it from getting into the wrong hands," Walters said. "Something is always new with compliance and security. There is a dedicated group that is looking for the next thing."
Partners feel comfortable and confident that every single Storefront transaction is safe and secure for their customers because of our commitment to security, Giardini said.
"This continues to be evident as institutions continue to build and expand their Storefront footprint – leading to record transaction amounts processed in 2020," Giardini said.
We also successfully implemented two new projects with Storefront, PeopleSoft and Banner Connector, at Rider University and Southern Methodist University.
"This automated integration option is another great Storefront feature that completely removes the manual process of generating reports and importing data to the institution's financial system," Giardini said.
These projects allowed institutions to take daily Storefront transactions and import them into their respective enterprise resource planning (ERP) systems to report and reconcile their financials automatically.
Brice Priestley, assistant treasurer at Southern Methodist University said, "We were the first institution to integrate Peoplesoft with Storefront, and the IT professionals and engineers at Nelnet Campus Commerce were great to work with. They provided software patches, as needed, to address our ERP challenges."
Social distancing on campus with Storefront
The extremely versatile product, Storefront, has been allowing institutions an option to provide a safe, online marketplace throughout the pandemic. The product has been able to meet the unique needs of every institution.
Storefront has proved to be an important lifeline for multiple partners during the COVID-19 pandemic, Vanner said.
"Storefront offers institutions a way to sell their goods or services to students and consumers safely and securely online," Vanner said. "Since Storefront is a web-based product, it's been a vital resource for clients who needed to quickly adapt to the times and accept transactions for a wide array of goods and services that were previously completed entirely in person with cash or check."
The Ohio State University opened two stores this year that provide online homes for their on-campus hospital gift shops. The two stores were Hope Boutique and Scarlet Ribbon Gift Shop – they both provide a contactless way for family and friends to purchase items for patients. After someone purchases an item digitally on Storefront, the balloons, candy, or other items are delivered directly to the patients' rooms.
The Ohio State University Wexner Medical Center was able to transition their in-person perinatal and childbirth education classes for expectant parents completely online with Storefront. They can now conduct classes virtually, following social distancing guideline.
The Ohio State University School of Music had to cancel their summer music programs because of COVID-19. They got over this obstacle by implementing Storefront so that children could attend online, music workshops.
The Ohio State University Department of Microbiology will be using Storefront to offer rapid COVID-19 testing and COVID-19 antibody tests to their students and the public.
The University of Minnesota's Les Bolstad Golf Course wanted to go touchless due to the pandemic. Storefront took that weight off of their shoulders by allowing them a platform to move their booking system to an online marketplace. Golfers can now book a tee time and rent golf carts on Storefront, eliminating in person payments and scheduling.
South Mountain Community College has a storyteller's institution, where they offer trainings, workshops, college course work, and certificates in storytelling. Everything use to be in-person and Storefront has allowed them to move online – selling tickets to the events and sharing links to their live webcast.
"The Storefront team is continuously soliciting feedback from users and is always working to both improve existing features and introduce new cutting edge technology," Vanner said. "The future of Storefront is bright and we cannot wait to see what 2021 and beyond will bring!"
To request a demo about Storefront, please contact NCCInfo@nelnet.net or visit campuscommerce.com.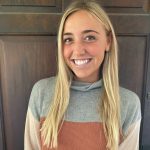 Author: McKenzie Beach
McKenzie Beach is an Account Manger for Nelnet Campus Commerce. Graduating from Doane University with a degree in Strategic Communications and a minor in Leadership, she first joined Nelnet Campus Commerce as a content coordinator intern, she researched and communicated what is needed for our clients and the public. McKenzie is now an Account Manager, working directly with clients to further enhance their payments experience. When McKenzie is not working, she enjoys baking and spending time with her family.