Student Feedback Enhances the Nelnet Campus Key® App
Our interns are provided a pitch competition to provide innovated ideas that would enhance Nelnet businesses or products because we value student feedback

An intern group pitched an idea to add a function to the Nelnet Campus Key® app that would allow on-campus organizations and clubs to benefit from the platform

Interns learned many valuable skills and improved upon their career development while competing in the Pod Pitch Project
Nelnet pathway interns had a competition over the summer known as the Pod Pitch Project. The prompt given to interns directed them to propose a new venture related to how Nelnet can support or solve a problem that students will encounter. There were three categories that the new idea could support or enhance:
Building on an existing Nelnet business line
Perusing a strategic acquisition or merger
Creating a new business proposal
One of the teams came up with an attribute to add to the Nelnet Campus Key product. This team, known as "Innovah," won the competition out of eight other teams. Each team was made up of five to six interns from across all divisions and business lines of Nelnet. This group came up with a new attribute that would allow on-campus clubs and organizations to utilize the Nelnet app for student engagement. Innovah researched the competitive landscape of mobile applications and concluded that Campus Key would allow clubs and organizations to extend their current capabilities to assist their members more efficiently and productively.
Abby Nelson, Nelnet pathway intern, described their invention as adding a student organization engagement platform to the existing Campus Key app.
"For example, students could pay organization fees directly through Campus Key's payment feature," Nelson said.
Current college student views
The main users of the Campus Key app are students at an institution. Being able to hear their feedback is important because they are directly impacted by the app every day.
Brent Lucke, Nelnet pathway intern, was a member on the winning team. He said the Pod Pitch Project has been his favorite experience at Nelnet so far. He pointed out that his team decided to go down the Campus Key path because Nelnet has already established long standing partnerships with institutions. Innovah was able to leverage the already existing platform to design their unique concept. Lucke's team member and pathway intern, Nicholas Callahan, agreed and said the project was a great opportunity to allow interns to collaborate with departments.
"Throughout this research project, I've made great connections throughout the company," Callahan said. "I learned new strategies to research and develop new ideas."
The intern teams presented to a board of Nelnet executives in July after five weeks of preparing. Nelnet Business Services chief executive officer, Tim Tewes, and Nelnet Business Services president, DeeAnn Wenger, made up part of the board who judged the pitch competition. Since Innovah won, they were selected to present their idea at the monthly, company-wide innovation event in late July – Nelnet Spark.
Brent said having the experience of presenting to the executives of Nelnet helped him build confidence in his communication skills.
Zach Glass, Nelnet intern, was on the team that received fourth place in the competition, his team had an idea to add to the Campus Key app as well. His group presented an element for the app that would allow students to reserve study rooms on campus. Glass acknowledged how Innovah did a great job brainstorming an innovative idea and going above and beyond.
"They networked with the right people within our organization to present a very developed proposal to the executive team," Glass said.
Interns expand career development
The Innovah team said there were challenges they came across. They agreed that the main challenge was figuring out where to start with their idea. Needing an idea that is valuable to Nelnet and their cliental, discovering this took time and research. Innovah had to research the institution market and see what was needed most.
"We all had motivation and a sense of ownership that lead to some creative forks in the road we had to navigate," Lucke said.
The interns agreed that this project has allowed them to develop many skills. Brainstorming ideas with a team and filtering those down to an actionable idea is one skill that was developed. The project contributed to increasing the intern's communication and leadership skills. Glass said that he learned a lot of lessons when it comes to collaborating remotely.
"I would say the main take away from this project for me was learning how to efficiently communicate with a team while being completely remote," Glass said.
The idea has not been put into action yet but has clear, next-steps planned out. Innovah said the Campus Key attribute will need further research and discovery completed and the actual feature needs some refinement. The Nelnet Campus Key team is excited to work with the interns to further explore the on-campus group engagement feature.
Innovah won the competition by creating yet another attribute to add to the Campus Key app. Campus Key allows for day-to-day campus life to operate efficiently. The app changes the way your campus connects through digital payments, access, and communications. Campus Key is an all-in-one mobile experience that works on any Apple or Android device. For more information about Campus Key, visit campuscommerce.com.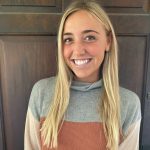 Author: McKenzie Beach
McKenzie Beach is an Account Manger for Nelnet Campus Commerce. Graduating from Doane University with a degree in Strategic Communications and a minor in Leadership, she first joined Nelnet Campus Commerce as a content coordinator intern, she researched and communicated what is needed for our clients and the public. McKenzie is now an Account Manager, working directly with clients to further enhance their payments experience. When McKenzie is not working, she enjoys baking and spending time with her family.