Meet Brittany Hubbard, Director of Higher Ed Product Strategy
New to her role at Nelnet Campus Commerce, Brittany brings over 20 years of experience in a number of roles including University Bursar and Associate Treasurer

She is looking forward to interacting with higher ed colleagues in a new way

Brittany brings her passion for creating highly effective and engaged teams that drive innovation
What are some of the highlights of your career in higher education before coming to Nelnet Campus Commerce?
I was with Indiana University for over 20 years, serving as Bursar and Treasurer, and I spent eight years in Financial Aid. During my time at Indiana University, I restructured the bursar office, increased automation, and expanded shared services across campuses while reducing costs. During the pandemic, I successfully moved entire teams to 100 percent remote work without loss of service or functionality.
What interested you in the role of Director of Higher Ed Product Strategy?
The role appealed to me because it's an opportunity to uses my strengths of team building, strategy, and ideation in a new area. This opportunity will allow me to work at a company that shares my values and culture goals – people and service being the core of both.
What experiences are you looking forward to when it comes to serving our partnerships/clients?
I am excited to interact with my higher ed colleagues in a new way. I am looking forward to finding solutions for their challenges that meet their needs and exceeds their expectations.
What unique characteristics/skills do you bring to this role?
With my 20 years of experience in a variety of roles in higher ed, I can provide insight into the industry and in-depth knowledge of the challenges the industry faces. While all institutions are different, many of the challenges they face have similar solutions. Also, I bring a passion for creating highly effective and engaged teams that drive innovation and change.
What are you most proud of in your career?
The people – there is nothing more rewarding to me than helping someone figure out their strengths and then helping them leverage those strengths for success.
What was the most important advice you've been given?
I have two pieces of advice I'd like to share:
Never expect more from your team than you are willing to give yourself.
Do not bring problems to leadership without also bringing possible solutions.
In your personal life, what do you enjoy doing? What are you passionate about?
I have an 18-year-old son and a 16-year-old daughter, along with a dog and a cat. Most of my time right now is helping my son get ready for college and watching my daughter play softball. When I'm not doing that, I enjoy binge watching shows, video games, reading, and going to concerts.
Visit Our Team to find your Regional Representative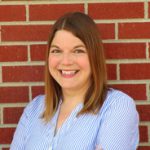 Author: Natalie Schwarz
Natalie Schwarz is a Content Marketing Writer for Nelnet Campus Commerce. She holds a Master of Arts degree in Creative Writing and has over a decade of professional writing experience. When she's not crafting content for blogs, case studies, and social media, you can find her enjoying the outdoors with her husband and their twin boys or relaxing with an embroidery project and a podcast.