Meet Scott Tolliver, ABM Manager
New to his role at Nelnet Campus Commerce, Scott brings with him extensive experience in marketing management

An aspect of this new position he enjoys most is relationship building

One of his key motivations is his family as they motivate him to take on greater challenges
What has been your professional experience before coming to Nelnet Campus Commerce?
Prior to joining Nelnet, I spent 13+ years of my professional career as a regional marketing manager for a large financial institution. Along with this, I have worked as an account-based marketing manager for a software company and have worked for a few different advertising agencies.
What interested you in the role of account-based marketing manager?
 What interested me in this position, in general, is the opportunity to work within a cross-functional team to create compelling, high-touch, high-value marketing programs/campaigns that help drive sales and opportunities for specific accounts, rather than relying on the 'spray-and-pray' method of marketing.
What are you enjoying most about your new role?
One of the things that I have enjoyed so far is meeting people and building relationships with them, like our business development executives. Since I work directly with them, it's important that we build a solid relationship. We meet on a bi-weekly basis to discuss strategy, accounts, and provide and receive updates, but I think those meetings go beyond business as it's a time for me to get to know them as people, learn how they work, and what methods of communication work best for them – all which plays a key role in building a strong relationship.
In your own words, what's the goal of marketing?
The goal of marketing is to provide relevant content that educates your intended target audience about your organization, products, services, or promotions.
What makes you passionate about this work?
Coming in every day knowing that what I'm doing will not only have an impact on Nelnet's bottom line, but will also help universities streamline their processes and help students achieve their educational goals.
What motivates you to work hard in either your professional or personal life?
My biggest motivation is family. They are my source of inspiration and my strongest supporters as well. When my family sees me working hard, I want them to embrace that same mindset of achievement and drive. I want them to understand that when things get challenging, the strongest people keep moving forward no matter what the situation. They constantly motivate me to take on greater challenges and risks without the fear of failure or backing out.
What is the one thing that can instantly make your day better?
Going on a 20-30 mile bike ride or an 8-10 mile run while listening to some of my favorite music. It's a great way for me to relieve stress and a time when I can just let go and let my mind wander – while paying attention to the road ahead of course.
In your personal life, what do you enjoy doing? What are you passionate about?
When away from work, I'm an avid runner and cyclist. As a runner, I've participated in numerous 5k and 10k events, more than 13 half marathons (13.1 miles), and one full marathon (26.2 miles). As a cyclist, I participated in many charity century rides (100 miles). In February 2022 I will be participating in 1MISSION's Bikes Fight Poverty ride, which is a two-day, 207-mile bike ride from Phoenix, Arizona to Puerto Peñasco, Mexico. When I'm not running or riding, I enjoy cooking with my wife, spending time with family and friends, and vacationing in the Caribbean.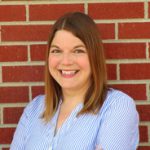 Author: Natalie Schwarz
Natalie Schwarz is a Content Marketing Writer for Nelnet Campus Commerce. She holds a Master of Arts degree in Creative Writing and has over a decade of professional writing experience. When she's not crafting content for blogs, case studies, and social media, you can find her enjoying the outdoors with her husband and their twin boys or relaxing with an embroidery project and a podcast.