Ryan Perry, Account Executive, Midwest Region, for Nelnet Campus Commerce
Ryan was recently promoted to Account Executive after being a Business Development Consultant for the last few years.

He enjoys working in the higher education industry because he is familiar with the responsibilities our customers face and knows he has the ability to lighten their workload through our products.
Describe your work experiences with Nelnet prior to this role.
I started my career at Nelnet three years ago with FACTS (a business service of Nelnet) in K-12 implementation. After spending a year in that department I got the opportunity to join the Inside Sales Team for Nelnet Campus Commerce. I have been a Business Development Consultant for the last two years working with smaller institutions and current clients, along with prospecting for new clients.
What do you enjoy about working in higher education?
Prior to Nelnet I spent over 20 years in private school education. Seven of those years were spent at a local college in Nebraska where I wore many hats. Now, that I am no longer wearing different hats, I love that I have the ability to lighten the workload of our customers because I personally know the daily challenges they face. It feels good knowing we are here, making their work routines a little easier.
What interested you in the position of Account Executive?
I was interested in the position of Account Executive as I really enjoy getting to know my clients and I enjoy knowing they can count on me to support them. I am looking forward to growing and fostering client relationships, which in turn will help our partner schools thrive on our platforms.
What are some unique characteristics you bring to this role?
I feel I have a decent handle on what our partners experience after spending most of my professional career in the education industry. I like getting to know our schools and listening to their needs. I pride myself in developing relationships with my clients, but it is also important to foster relationships inside our organization. We have a great team at Nelnet Campus Commerce and we wouldn't be able to do our jobs for our clients without the wonderful team that also serves them on a daily basis.
Is there a particular Nelnet product you are excited to share with current or potential clients?
We have a wide variety of products that meet different needs. It's fun discovering a need on a campus where we can truly have an impact when implementing one of our products. At the end of the day, I want us to deliver products to make my customer's jobs easier and more efficient.
In this state of hybrid work environments, what communication channels do you find most effective for reaching clients?
With all relationships in life people have different ways they prefer to communicate. No two clients are the same. I'm here to serve our clients so I will use their preferred method of communication.
What motivates you to work hard?
I get great satisfaction from knowing my clients can count on me to be there for them. Also, I have to mention the team environment here. We have a great team at Nelnet Campus Commerce, and when you love what you do for work, and love who you work with it makes easy to go to work and stay motivated. Additionally, I am motivated by being able to provide for my family.
What's the best way to start your day?
Coffee and Tea. I start every morning enjoying a cup of coffee with my wife, who has tea. We find it's a peaceful way to start our day together.
Share with us a piece of advice you have been given.
I am not sure where I first heard it, but it is a piece of advice that I try to share and live by: "Just ask. The worst thing that can happen is you get a no."
Outside of work, what are your interests or something you enjoy?
Honestly, it's my family. I've been married to my wife Carrie for four years and I have three kids: Audrey, who is a college sophomore; Ainsley, who is a high school freshman; and Jack who is in 7th grade. I like taking our dog Henry (Cavalier King Charles Spaniel) out for walks and rides as well. When I have a spare moment I enjoy cruising in my vintage 1963 Volkswagen Notchback which my dad and I just finished restoring.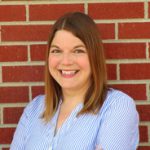 Author: Natalie Schwarz
Natalie Schwarz is a Content Marketing Writer for Nelnet Campus Commerce. She holds a Master of Arts degree in Creative Writing and has over a decade of professional writing experience. When she's not crafting content for blogs, case studies, and social media, you can find her enjoying the outdoors with her husband and their twin boys or relaxing with an embroidery project and a podcast.