Season's Eatings: 2022 Cookbook
Holiday greetings from Nelnet Campus Commerce!

Our team is ready to share their favorite family recipes in our free annual cookbook.
Each year our Nelnet Campus Commerce Client Experience Team gathers up their recipe submissions for the annual cookbook. This is our favorite way to connect with clients, like you, by sharing personal stories and recipes they enjoy. This year's cookbook is a reflection of all of the months throughout the year. Starting in January and going month by month, celebration by celebration, we share drinks, main dishes and sides, and many other tasty treats all the way through December.
Our cookbook is one of the most popular pieces we produce and garners the most engagement from our clients. We are happy to share our cookbook with you, and we hope you enjoy it as much as we do!
Be sure to take time in the New Year to create some memories, and good meals, when celebrating with those you love. From our kitchens to yours, we wish you happy and merry Season's Eatings!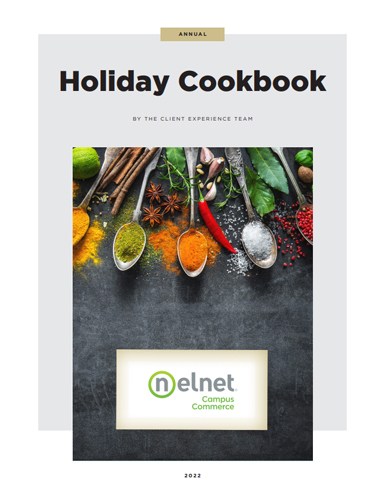 Download the 2022 Cookbook (69 MB)
If you want more recipes from our amazing cooks on the Client Experience Team, check out some of our cookbooks from previous years: