FERPA: Parents, Payment Plans, and Permission
Family Education Rights and Privacy Act (FERPA) ensures that student information is private and that family members need to be added as authorized payers to be able to make a payment onto their student's account.

Learn how to add a payer as an Authorized Party on the student payment plan.

Understand the difference between full and partial access to a student account.
The Family Education Rights and Privacy Act (FERPA) is tricky business. It makes the college student the sole owner of their grades and financial information, even while their parents are footing the tuition bill. It's a difficult conversation to have when parents call the university to make a payment, but the financial officer is unable to tell the amount owed.
The same federal guidelines apply to Nelnet Campus Commerce payment plans. Thankfully, there's an easy solution for students and families.
If a student wants a parent, family member, or other representative to have the ability to view their payment information, they can add them to their account as an Authorized Party. By doing so, the student designates this person as a FERPA-compliant third party and allows them to view information and make payments on their behalf.
A student can add an Authorized Party by clicking Add an Authorized Party under the question, "Want to allow a friend or family member to pay toward your balance?" on their home page.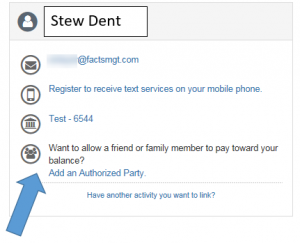 If a student adds an Authorized Party, the information permitted to view is on the Authorized Party tab on the student profile. The Authorized Party's level of access is determined by the institution. Most higher education institutions offer only limited access or full access. Each access determines the level of activity the Authorized Party can see.
Difference between full and partial access
Full-access Authorized Parties can see all balances, payments, and transactions just as the student can. Limited-access Authorized Parties can only see the balance of institution funds for the payment plan, billing activity, and payment information for their own transactions. Students can elect to allow their Authorized Parties to view the transaction details that make up the balance.
In addition to adding Authorized Parties, a student can invite an Authorized Party to take over responsibility of the payment plan. In this case, the parent or student representative then becomes the plan owner. The parent or student representative must be an Authorized Party before they become a plan owner. To change plan owners, students will need to click the "Actions" tab, then click "Request a New Plan Owner."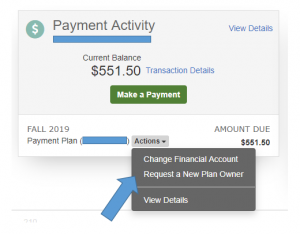 The new plan owner will be responsible for all remaining payments on the payment plan. With either options, the student has to go through a process of consent to allow parents to view their payment plans.