Best-In-Class Customer Service: The Inspiring Tenet
Being inspiring encourages our partners and associates to take action on new opportunities

New possibilities lead to student success because partners can provide more options and solutions to their students – making paying for higher education more efficient and convenient for students

Our goal is not to just leave a good impression, but a lasting impression as well
Being inspiring means encouraging others to take action, focus on goals, and be more productive. By providing compelling visions for our higher education partners, we hope to inspire them to shoot for the stars and provide the best solutions for their students. Our motivated and energetic associates' strive to make a significant and meaningful impact on every institution they work with.
Alan Whitenack, Nelnet Campus Commerce account manager, defines being inspiring as promoting positive energy and encouraging others they are doing great – especially during stressful times.
Every interaction, discussion, and engagement can advance our client's experience and success. Listening to our partners and truly connecting with them fuels a positive, fulfilled path ahead.
Marci Mueller, Nelnet Campus Commerce team leader, says, "I give our partners creativity and flexibility while allowing them to be their own person. Giving them the tools they need to be successful and guiding them through new processes instills trust that enables them to grow through new opportunities."
Ultimately, our goal is to help higher education support students in smarter ways (like giving those students more options to pay for tuition or creating a more connected campus experience). It's a common goal we share with our partners – making paying for college easier, more efficient, and convenient for the institution, students, and their families.
Inspiring clients with new ideas can lead to student success when clients see that they have more options to offer to their students, says Alan.
"This helps students due to the flexibility that the client has decided to offer," Alan says. "When the client is knowledgeable about plans and making adjustments, students get the answers they need."
Ryan Wolfe, accounts receivable coordinator at Southeastern University, says Nelnet Campus Commerce provides a system which helps their students pay for college.
"That is a necessary option for students in order to minimize stress and maximize available choices to pay for college," says Ryan.
The platform is very beneficial for students because it allows them to make convenient payments, see what is owed, what has been paid, and what their remaining balance is.
We live in a world today that is constantly changing. With that change comes new possibilities that can lead to new adventures, connections, and a greater sense of meaning and excitement. Every day brings more opportunities to better yourself. Our associates are constantly looking for new visions and paths to go down that would be beneficial to our partnerships.
Amy Graham, Nelnet Campus Commerce account manager, says she provides institutions with all of the information they need to make an educated, thoughtful decision. Choosing to partner with us can be a big call to make – and we'll make sure it's the right one as well.
"Seeing an institution improve by incorporating a Nelnet Campus Commerce solution puts a smile on my face because they can now operate more efficiently and productively," Amy says. "In my personal life, seeing my kids get excited over a ball of dough with sprinkles on it brings me joy because it reminds us that there are small, but meaningful, new possibilities."
Having such a positive impact on an institution that we leave behind an awesome impression is the goal of every conversation and encounter an associate has. Our goal is not to just leave a good impression but a positive, lasting impression. Keeping it real, smiling, and having genuine empathy for every situation, individual, and institution is important to us.
Ryan says he appreciates the team that works with his institution.
"We have monthly meetings for updates, issues, and fixes," Ryan says. "They are all willing and able to help in every possible way. I care about loyalty, investment, and commitment… as of today, Nelnet Campus Commerce has shown this to its fullest and it is very appreciated."
Interested in best-in-class service? View all eight tenets of our promise to you.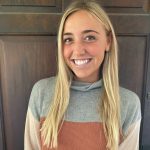 Author: McKenzie Beach
McKenzie Beach is an Account Manger for Nelnet Campus Commerce. Graduating from Doane University with a degree in Strategic Communications and a minor in Leadership, she first joined Nelnet Campus Commerce as a content coordinator intern, she researched and communicated what is needed for our clients and the public. McKenzie is now an Account Manager, working directly with clients to further enhance their payments experience. When McKenzie is not working, she enjoys baking and spending time with her family.