4 Trends in Higher Education for 2022
A new year brings new trends in Higher Education

Even as the pandemic wanes, students still want options for how they learn

Going cashless across campus is a newer trend for 2022
With a new year, new trends in Higher Education are emerging. The number of these trends may be overwhelming when searching the web, but we've narrowed it down to a top four. This trends list includes ideas on moving forward with hybrid/remote learning, spending funds on continued improvements to technology across your campus, increasing enrollment numbers, and the most recent trend in payments – going cashless.
#1 Moving forward with hybrid/remote learning
As the pandemic wanes, students are still expecting options, like in-person or remote, when it comes to how they learn at your higher education institution. According to Education Data, online education is one of the fastest-growing areas in education technology. In 2017, only about 30 percent of students took online classes, whereas in 2020, 97 percent of students reported switching to online instruction altogether.
Current students are looking for flexible learning experiences which allow them to continue their education while managing other responsibilities. As for alumni, they are looking for upskilling opportunities via microcredentials, to navigate growth and career change during the "Great Resignation." By offering hybrid/remote learning options, your institution can meet the needs of these students.
#2 Continuing to improve technology across campus
When offering online learning to students, your institution will need to keep your technology infrastructure up to date. With the Higher Education Emergency Relief Fund III (HEERF III), signed into law in March 2021, billions of dollars in emergency aid was sent to public and private non-profit higher education institutions to use for a variety of needs, including technology upgrades across campus. When managing IT modernization, eCampus News suggests starting with projects that assist in running the core business with lower cost, higher efficacy, and better value.
Another way to make technology improvements is to move core applications and infrastructure services from on-premises environments to a cloud-based solution. Cloud-based solutions provide tighter security and data recovery while freeing up institution IT staff to devote less time to maintaining legacy systems and more time to areas aligned with the institution's core business. Amazon Web Services Higher Education (AWS) is a prime example of this.
#3 Increasing enrollment numbers at your higher education institution
Recruiting students for your higher education institution can be challenging, even in the best of times. In a report from EAB, enrollment numbers were slightly up for graduate programs among higher education institutions for the 2020-2021 school year; however, they found the pandemic changed educational plans of nearly 60 percent of international students who planned to pursue graduate studies in the United States. This change was in part to international travel restrictions, difficulties completing admissions requirements, and the inability to afford the education they came to pursue.
So, what can be done in 2022 to increase enrollment among domestic and international students? Element 451 suggests making the enrollment journey a personal experience by making your prospective students feel like they're a priority. Design messages that are highly personal and specific for them. They also recommend investing in SEO (Search Engine Optimization). SEO is a proven way to market your message and increase enrollment. Using SEO strategies can ensure that your institution's website performs better in search results on popular engines like Google.
#4 Benefiting your students and staff by going cashless
The final trend on our list for higher education in 2022 is going cashless on campus. US Bank shares that today's students have moved into an increasingly digital world where they live in a mostly cashless society. Higher education institutions are left straddling the line between legacy payment systems and evolving student expectations. There are many benefits to going cashless, including promoting health and safety as there is no physical exchange of cash, and streamlining payments processes in the business office by eliminating cash transactions.
At Nelnet Campus Commerce, we offer Campus Key, a customizable mobile app that provides students the ability to navigate multiple aspects of campus life, safely and securely from their phones. This app not only works as a digital ID and messaging system, but also allows for the ability to make cashless payments for tuition and other purchases on campus. With students spending an enormous amount of time on their phones, giving them the option of going cashless on your campus will meet one more of their technology expectations.
Looking for more higher education trends, check out our insights and sign up for our newsletter!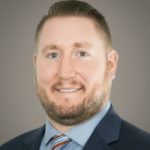 Author: Jared Blaser
Jared Blaser has been Nelnet Campus Commerce for 14 years and, specifically Product Management for the last 6 years. Currently, He is the Manager of the Higher Education Product Development Team. Constantly talking to clients, researching industry technology and student needs, he leads a team striving to make educational dreams possible through service and technology. When Jared's not working, he enjoys spending time with his kids and playing and watching sports.