CampusConnect Virtual Conference 2023 broke the previous attendee record.

Clients were able to engage with Nelnet associates through 38 sessions and hear from five keynote speakers.
Another Record-Breaking Year
For the third consecutive year, Nelnet Campus Commerce was able to bring clients and Nelnet associates together in the digital world. Since our last in-person gathering in 2019, our virtual conference has not only persisted but flourished, attracting an ever-expanding audience. With a remarkable 1,000+ registrations and an 80 percent attendance rate, this year's event stands as the largest in CampusConnect's history! Furthermore, we proudly maintained our tradition of offering this virtual experience to our clients entirely free of charge, leaving our event organizers overjoyed at this record-breaking turnout.
Also this year, we implemented a new conference platform — Whova. This all-in-one event management solution effortlessly guided both our dedicated staff and excited clients through numerous engaging sessions. With access to over 100 lively community boards, 11 stimulating virtual meet-ups, and an easy to use app, participants could join in from virtually anywhere, fostering connections and sparking participation across the digital event.
Exploring the Agenda – Top Sessions and Keynotes
CampusConnect offered our clients 38 sessions on a variety of topics. From informative product updates to enlightening keynote speakers – these session were full of useful and insightful knowledge. Some of the well-attended sessions included:
Where We've Been, Where We Are, Where We're Going: On the first day, Jackie Strohbehn, President of Nelnet Campus Commerce, provided a comprehensive overview of our current and future initiatives. With valuable insights into our strategies and plans, Jackie outlined the direction we are taking to improve the business environment for our partner institutions.
Voice Your Needs – Student Billing & Bursar's Office: In this interactive session, led by Brandee Williams, Product Manager – Student Accounts at Nelnet Campus Commerce, our clients had the chance to articulate their needs and discuss innovative concepts surrounding student billing. It was an open forum to tackle the challenges faced by bursars, with the aim of aligning Nelnet's future improvements in higher education with the needs of our valued clients.
The Road Ahead – What's Next for Nelnet Products: On the second day, Brittany Hubbard, Director of Product Strategy at Nelnet Campus Commerce, delivered an informative presentation. She explored the upcoming changes in Nelnet's products and how they will be delivered. She highlighted the ongoing journey of continuous improvement at Nelnet and how these strategies will result in better product experiences designed for the future of higher education.
Let's Talk Sponsor Billing and Payments: This client-led session showcased speakers from Indiana University and the University of Illinois, both institutions that recently implemented Nelnet's Sponsor Billing and Payments. Together with Nelnet moderators, they discussed the potential of this product to resolve the challenges related to sponsor payments, manual bills, and reconciliation, sparking discussions.
The Power of Personalized Messaging – Exploring Nelnet's Messaging Options for Enhanced Engagement: Laura Faurot, Product Manager at Nelnet Campus Commerce, presented Nelnet's wide range of messaging tools. She explained how institutions can use our technology to create effective communication strategies that shape behavior and reduce inquiries. Using real-world examples and best practices, Laura showcased how customization, personalization, and data-driven insights can help reduce queries and encourage desired actions.
Our guest keynote speakers included:
Bryan Alexander, Award-Winning Futurist & Educator, Georgetown University: In his session, "The Future of Higher Education: Understand It. Anticipate It," Bryan leveraged his futurist expertise to shed light on the contemporary, evidence-based trends reshaping our colleges and universities. He delved into global developments that impact campuses, from macroeconomics to demographics and geopolitics, as well as shifts within academic institutions, such as enrollment and financial changes. The discussion also touched on emerging technologies and culminated in imaginative scenarios of potential future campuses and their transformations.
Bridget Burns, CEO, University Innovation Alliance (UIA): In her session, "Transforming the Future of Higher Education Around Student Success," Dr. Burns explored the art of driving sustainable innovation regardless of one's position within an organization. Drawing from her extensive experience with the most forward-thinking universities in higher education, she outlined actionable strategies, key inquiries, and initial steps for driving innovation. This keynote session energized our attendees to begin implementing new strategies and gave them the tools needed to begin the work.
Ashley Jackson, Director – Government Affairs, NACUBO: In the session titled "NACUBO: Updates from the Hill," Nelnet partnered with NACUBO to provide timely insights from the nation's capital. Ashley's presentation explored the current political climate's impact on colleges and universities, while also addressing budget, tax, and regulatory changes affecting the business office. The discussion further covered the latest guidance from the Department of Education, including upcoming negotiated rulemakings on topics like Return to Title IV, Cash Management, and Third-Party Servicers and Related Issues.
This year, we reintroduced our unique ERP Discussion Groups, recognizing that each ERP system demands specialized attention and thoughtful consideration. These groups were tailored to offer in-depth insights into the specific system and its everyday functions. They served as a platform for our clients to not only connect, but also engage in discussions about common challenges and opportunities with peers from institutions that shared similar characteristics.
During the conference, we kept things interesting for our attendees by offering multiple exciting avenues to win fantastic prizes, including the chance to secure a $5,000 donation for their institution! These opportunities were attainable through participating in our conference survey, a BINGO game, and by being among the top engaged attendees. Let's extend our warmest congratulations to our lucky WINNERS!
Thank You to our Sponsors
We would like to extend our gratitude to our esteemed conference sponsors for their invaluable partnership and unwavering support in making our virtual event a success. Our sponsors include:
Save the Date - CampusConnect2024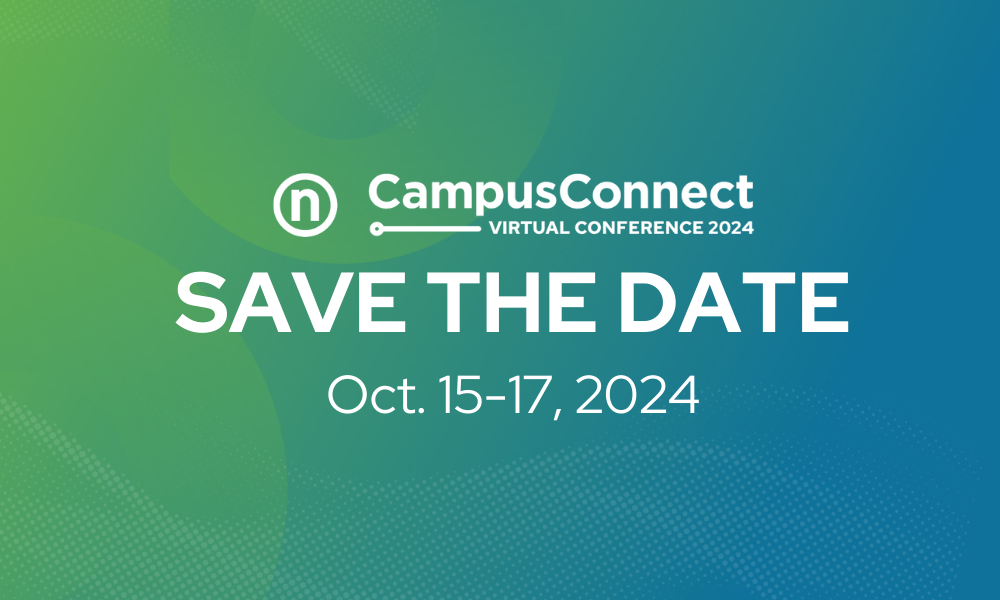 Author: Natalie Schwarz
Natalie Schwarz is a Content Marketing Writer for Nelnet Campus Commerce. She holds a Master of Arts degree in Creative Writing and has over a decade of professional writing experience. When she's not crafting content for blogs, case studies, and social media, you can find her enjoying the outdoors with her husband and their twin boys or relaxing with an embroidery project and a podcast.