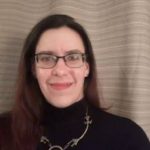 About Linda Hansen
With nearly 10 years' experience in writing proposals, Linda enjoys collaborating with various security and technical staff to provide pertinent answers to clients' concerns. She joined Nelnet Campus Commerce in 2019, bringing experience in journalism, customer support, and business writing to her role as Proposal Writer. When not answering long lists of questions, Linda can be found reading fiction or playing board games.
---
Linda Hansen's Recent Articles
Payment security standards are ever evolving, just like the security threats aimed at payment systems. With processing more than six million transactions annually, Nelnet Campus Commerce invests in keeping pace with these changes.  
Read More
As campus IT and business offices evaluate their processes in the wake of COVID-19 restrictions, changing campus policies, and ever-evolving technology priorities, keeping payments compliance top of mind is critical. Maintaining compliance for software applications that process payments is demanding, requiring regular audits and reports as well as knowledgeable, credentialed staff.
Read More