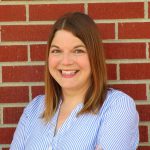 About Natalie Schwarz
Natalie Schwarz creates and edits internal and external communications as a Communications Specialist with Nelnet Campus Commerce. She holds a Master of Arts degree in Creative Writing and has over a decade of professional writing experience. When she's not crafting communications, you can find Natalie enjoying the outdoors with her husband and their twin boys or scoping out an estate sale.
---
Natalie Schwarz's Recent Articles
Holiday greetings from Nelnet. Annual tradition of sharing family favorite recipes continues with the free cookbook download from the kitchens of our Client Experience team.
Read More